Small Group
Training Sessions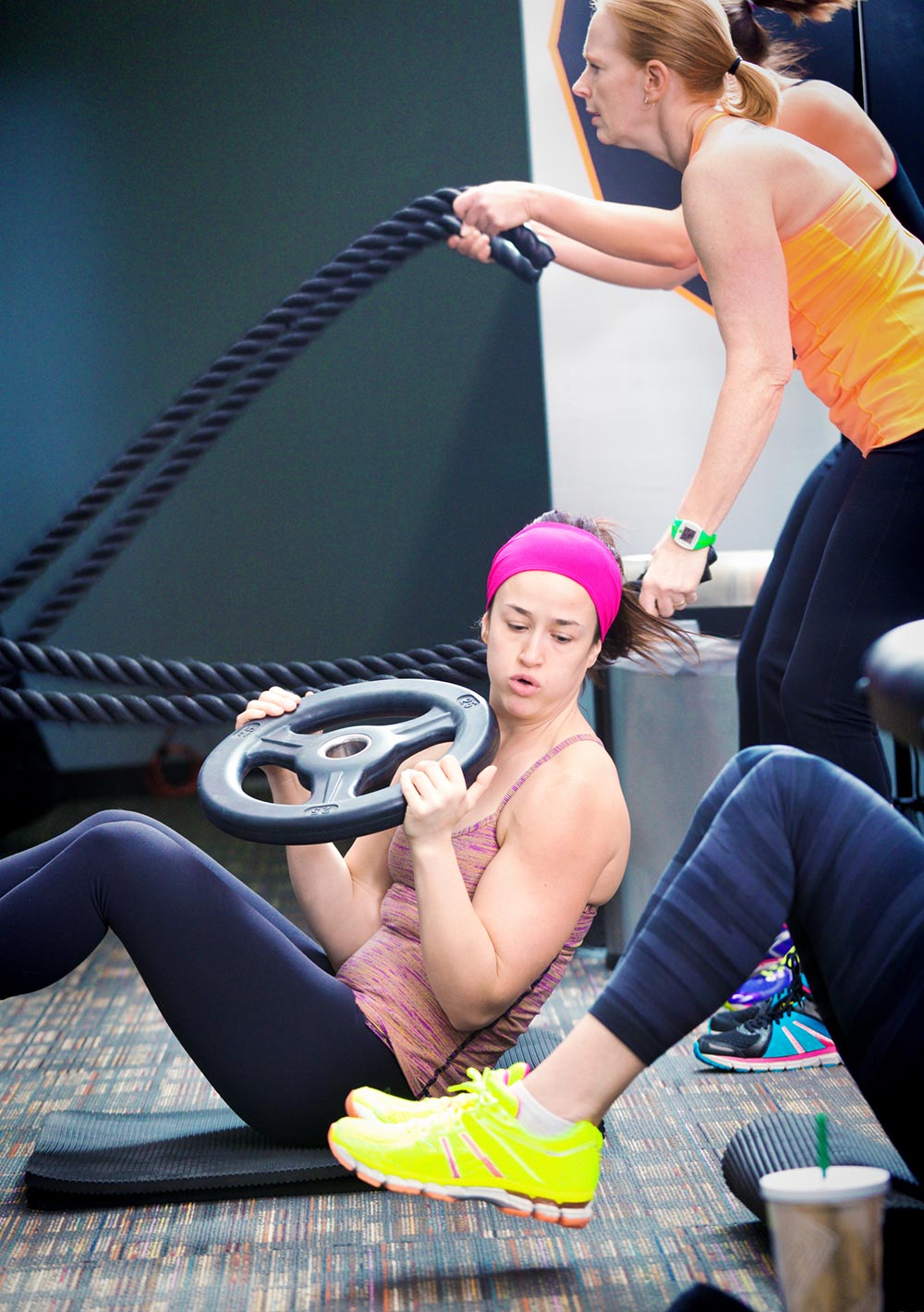 Personal & Small Group Training
---
Our women-only small group training sessions are held in classes of four to give you the extra support you need. Our structured workout begins with 30 minutes of HIIT (High-Intensity Interval Training) on cardio equipment of your choice. After we have challenged your cardio-respiratory system and lubricated your joints with HIIT, we move on to 25 minutes of strength and resistance training. The workouts change daily and incorporate a variety of training modalities including TRX training, kettlebells, agility and coordination exercises, balance training, and traditional weight training with our staff leading you every step of the way.
We offer a free Fitness Assessment for newcomers. Our assessment helps us identify your current fitness level and tailor class placement and programs based on your range of motion and more. If you are new to fitness or getting back from an injury, we recommend an assessment. These are done by our compassionate team - no judgment involved.
Pricing Plans:
Single Sessions: $25
1x Weekly: $100/mon
2x Weekly: $120/mon
Unlimited: $150/mon
Online Training: $50/mon
Personal Training Sessions:
$30/30-minutes
$45/45-minutes
$60/60-minutes


*Accepting HSA and FSA funds for all training services and membership plans.

Small Group Training
---
Small group training begins with 30 minutes of HIIT on cardio equipment of the member's choice. After we have challenged your cardio-respiratory system and lubricated your joints with HIIT, we move on to 25 minutes of strength and resistance training. Each class is limited to 4 women, ensuring a safe and customized workout to meet your musculoskeletal needs and current fitness level.
Gentle Yoga
---
This gentle yoga practice offers a refreshing balance of warming and energizing movements with deep and therapeutic stretching. By focusing on steady breath, relaxed concentration, and safe alignment, we incorporate mindfulness techniques with a healing physical practice. All levels welcome.
Foundations of Exercise
---
This class is designed for those new to exercise or requiring a slightly slower pace than our small group training classes. This class is perfect for someone working through injuries and those who require an extra moment for standing to seating transitions.
Buti Yoga
---
A high energy, invigorating yoga practice that blends vinyasa yoga, tribal dance, bodyweight training, powerful plyometrics, and cardiovascular training all in one class! This class is meant to challenge and empower, push through boundaries and re-emerge more confident, vibrant, and aligned. Fun and SWEATY! Bring a yoga mat, towel and lots of water. Ages 18 and over only. Music may have explicit lyrics.
Deep Stretch
---
Stretching is a vital part of any exercise routine as it gives your muscles the ability to lengthen, to expand and restore after exercise. This deep stretch class will review proper foam rolling and stretching techniques and teach members how to use foam rollers, stretching straps, myofascial release balls, and Theracanes!
Silver Sneakers Classic
---
Combine fun with fitness to increase your cardiovascular and muscular endurance power with a standing circuit workout. Upper-body strength work with hand-held weights, elastic tubing with handles, and a SilverSneakers ball is alternated with low-impact aerobic choreography.
Zumba
---
Zumba is a total-body cardio and aerobic workout combining many different forms of dance and types of music. Each routine combines interval training—alternating fast and slow rhythms—with popular Latin dances such as salsa, mambo, merengue, and samba. Perfect for all levels who want to dance and have fun!
Body Boot Camp
---
An intense 45-minute class that consists of mostly bodyweight moves alongside high endurance and high-intensity movements. Challenge your body with this non-stop, calorie-torching class.
Silver Sneakers Chair Yoga
---
While stretching is certainly involved, yoga is also about creating balance in the body through developing both strength and flexibility. This is done through the performance of poses or postures, each of which has specific physical benefits. The chair will be provided for in-studio classes.
Learn about Durham's best women's only gym!
Download our FREE Guide that Busts the Myths about Strength Training for Women