Synergistic Approach
To A Healthy Lifestyle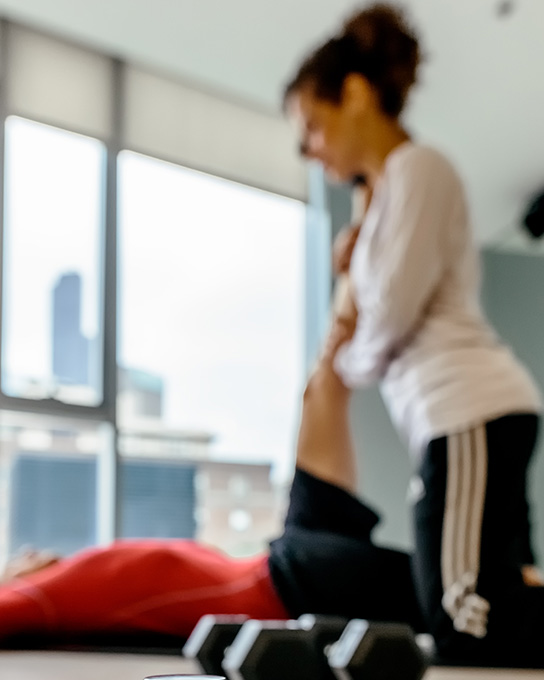 Physical Therapy
---
As a part of our synergistic approach, we believe having personal training, nutrition counseling, and physical therapy cohesively working together in one place just makes sense.
Dr. Birgit Reher, owner, and physical therapist has nearly 20 years of experience in her field. She provides care for a wide variety of musculoskeletal problems. For a list of the many issues that Dr. Reher treats, click here.
Whether you are in pain, noticed a decline in your mobility or balance, are trying to avoid surgery for an injury, or just want to become more active without injury, physical therapy can help! We can get you back to an active and healthy lifestyle.
At Synergy, we provide personalized one-on-one therapy without the use of assistants or aides. Dr. Reher schedules one-hour appointments to be able to provide thorough and individualized services and teaching tools you can use to actively help in your recovery. Most of our services are private-pay or as some call it, cash-based, as we believe in providing the care our patients need, rather than what insurance dictates. We do accept Medicare or Medicare replacement plans for services. You can also pay for your physical therapy with an HSA or FSA. We are not in-network with other insurances, but if you want to use insurance, you can ask your therapist for a superbill to submit to your insurance, as it may reimburse you for out-of-network benefits.
For more reasons to seek out cash-based physical therapy, click here.
Services Offered:
Physical Therapy Evaluation & Treatment: $120 (or Medicare)
Corrective Exercise Sessions: A one-on-one exercise session with our Physical Therapist that may be a suitable option for someone transitioning from rehab to exercise, someone new to exercise, or those not quite ready for group training.

30-minute session: $40 (6 pack / $210)
45-minutes session: $60 (6 pack / $315)

Myofascial Treatment: $75
Hands-on techniques used to relieve pain, scar tissues, or movement restrictions. This can include Graston Technique, trigger point release, and myofascial release.
Learn about the best women's only gym in Durham!
Download our FREE Guide "7 Ways to Live with Less Neck & Shoulder Pain."