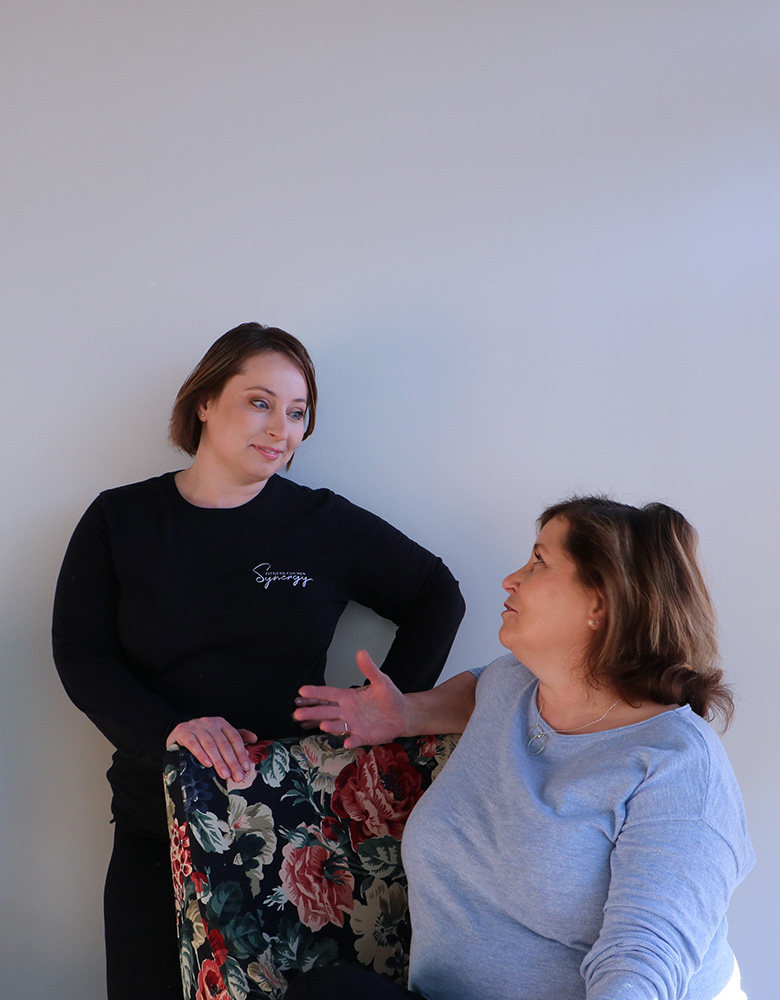 Synergy Fitness for Her is a locally owned small business created in 2015 by mother and daughter team, Dr. Birgit Reher and Kat Reher.
Dr. Reher and Kat frequently worked out together, and on their weekly Sunday morning runs, they would discuss their respective job experiences and frustrations. While working in outpatient physical therapy, Dr. Reher was frustrated with the lack of continuity of care once a patient was discharged from physical therapy. Often, clients would make great progress in physical therapy but then not have any support to maintain their gains and continue towards their health goals. At the same time, Kat was managing a franchised women's gym and found that services didn't fully align with what women really needed. Services were too focused on body image rather than health and non-scale victories.
Dr. Reher and Kat shared the desire to create a supportive space that is focused on pain-free movement, health at any size, having fun while exercising, and other non-scale victories. They decided to leave their jobs and create Synergy together. Starting with Small Group Training Classes and Physical Therapy, they eventually expanded to offer Personal Training, Nutrition Services, Accountability Coaching, and Yoga, as well as many specialty classes, including HIIT, Balance & Mobility, Foundations, Deep Stretch, and others.
Through the amazing support of our community and members, we moved into a larger space in 2021, which has allowed us to expand our offerings. We are located at the corner of Hope Valley Road (Hwy 751) and Garrett Road in South Durham.
We pride ourselves in creating a safe, inclusive, supportive, and fun space for our members to achieve their health and fitness goals.
We welcome women (cis & trans) and non-binary people of all ages, abilities, and races to our training services. Physical therapy is also provided to men (cis & trans).
Whether you are a newcomer to fitness or a trained athlete, whatever your health and fitness goals, we're honored to be here for you.
We look forward to seeing you.
Birgit & Kat
---
Why Choose
Synergy Fitness?
---
We promote pain free movement and body positivity. Our professional staff works together to help you achieve your health and 
fitness
 goals.
We value compassion, accountability, education, personal growth, and community involvement.
Why Choose Us?
First and foremost, this is a safe space
We believe in health at any size
Experience the community and support of like-minded people
Receive expert guidance and support
Focus on your individual needs to achieve your health and 

fitness

 goals
That's how we make a difference-we do all of the above, and more, so you can feel supported every step of the way.
Join Our Fitness Community
Get started with your FREE class today.