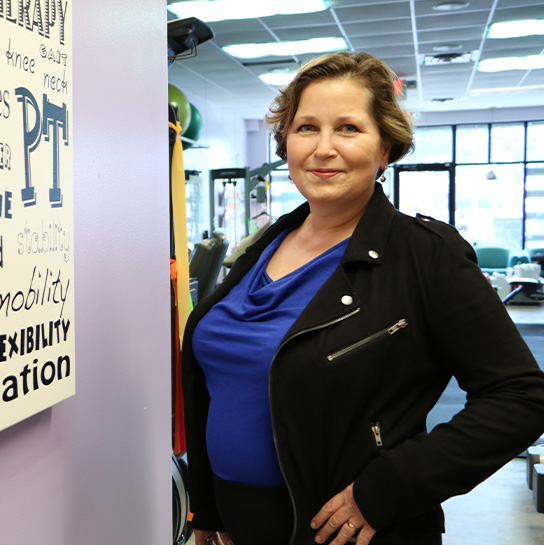 Dr. Birgit Reher

Owner/Physical Therapist
---
The most rewarding thing about what I do is helping women feel healthier and stronger, move better, and get back to doing the things they enjoy.
Many times, being a physical therapist means playing a detective. Clients frequently come in with problems that have developed from compensating for other underlying issues, such as old injuries. It's my job to figure out the root of the problem.
I love experiencing with my client that moment of insight where she becomes aware and fully understands why her body is having an issue, and that I can help her fix it, as well as give her tools to help herself. That brings me so much joy, even after 20 years of practice.
As an undergraduate, I received a Bachelor's in Nursing. After working as an RN for several years, I completed graduate studies to become a physical therapist at Dalhousie University in Halifax, Nova Scotia and later received a Doctorate in Physical Therapy from the University of Montana. I have worked in settings ranging from outpatient orthopedics to home health, geriatrics, and aquatics, and love working on resolving pain, restoring mobility, and improving balance.
When not working at Synergy, I enjoy hiking and backpacking, camping (including Prius camping), reading, gardening, cheering my husband on at soccer games, and having fun with my grandkids.
Katharina Reher

Owner/Operator
---
I love helping the women I serve have "aha" moments concerning their health and wellness. After almost a decade in the health and wellness industry, I've discovered that many people consider only one part of the body and forget about the interconnectedness of the body as a whole. This thought process is something to contemplate when focusing on activity, or intake, or even gimmicky fad diets! It's incredibly rewarding to help make a concept "click" when I provide clarity and insight for clients.
My background includes a Bachelor of Science in Biology from North Carolina Central University and a personal training certificate from the National Academy of Sports Medicine. I have seven years of personal training experience and 8.5 years of fitness management.
When I'm at home, I love spending time with my furry family! I have four cats and a 14-year-old Chow mix. I also trap and rescue feral kitties - last year, I successfully rescued 17! Other than that, I love acrylic painting, playing drums, and eating baked goods.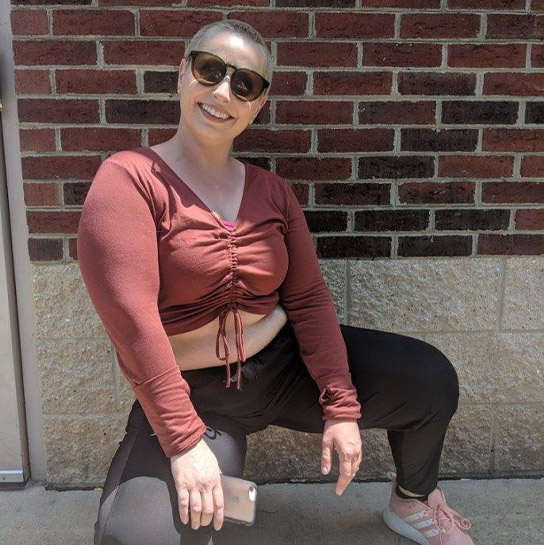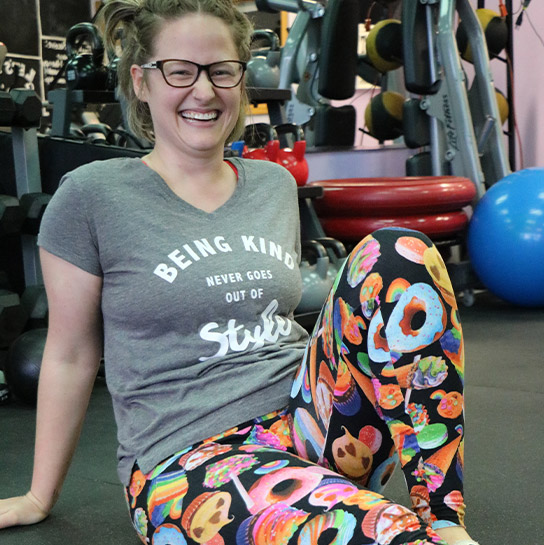 Alyssa Colley

Personal Trainer / Outreach Coordinator
---
Working at Synergy Fitness For Her gets me up in the morning because I enjoy being around strong women. I've always thrived in an all-female environment. We're all just trying to lift one another up and make positive changes for ourselves and the clients we serve! From a very young age, I knew I wanted to help people.
After high school, I left my home in Minneapolis to pursue college. I graduated in May 2018 with a B.S. in Exercise Science with an emphasis in Corporate Wellness. While attending college, I gained experience working as an Exercise Specialist at a bariatric clinic, where I got my first taste helping people reach their health goals. It shined a big light on neglected areas of the health and wellness industry.
The most favorite part of my day is coming home to my lover, my best friend, my rock. With nothing to cook for dinner, we just make sandwiches and tell each other about our days. In my quiet moments, I love reading and diving into learning more about astrology!
Chelse Zamarano

Personal Trainer
---
I have a passion for helping women who feel defeated. To the women who have always been told that there is nothing that can fix their health issues, helping you overcome gets me out of bed in the morning. It's a victory for both of us when you succeed.
I have a strong background in fitness! From 2012 to 2014, I competed in Olympic lifting. Since 2014, I've been leading group training. In 2017, I began personal training, and I became an Orthopedic Exercise Specialist in 2018.
When I'm not helping women achieve their most challenging goals, you can find me painting, playing interior design video games, and watching Disney movies. Of course, I also love pushing my own potential by training for races and competitions.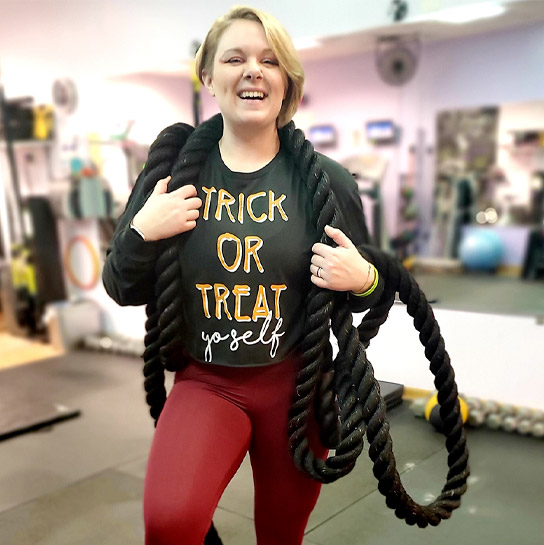 Laura Santiago

Personal Trainer
---
I love helping people get to their healthiest by encouraging them to challenge themselves. I am so excited to work with women who want to get stronger!
I have a Bachelor's degree in Exercise Science, concentrating in Health & Wellness, and a minor in Psychology. I completed my Master's degree in Integrative Health & Wellness in December of 2020.
Outside of work, I'm often hanging with my boyfriend. Sometimes we go out, but we also like staying in, being low-key, or having cooking dates.
Sue Nelson

Zumba Instructor
---
I am a teacher at heart. I want all women to know that fitness isn't a destination; it's a journey. I am humbled to be a guide on that fitness journey here at Synergy.
By day, I'm a high school teacher. I have also been teaching fitness classes for 20 years, including Les Mills and Zumba.
In my spare time, I have a Martha Stewart streak! While I don't believe in perfection, my tablescapes, Easter brunches, and gift baskets just have to be perfect.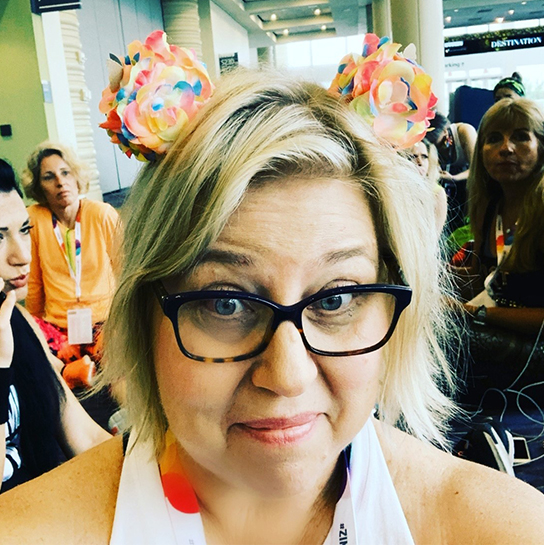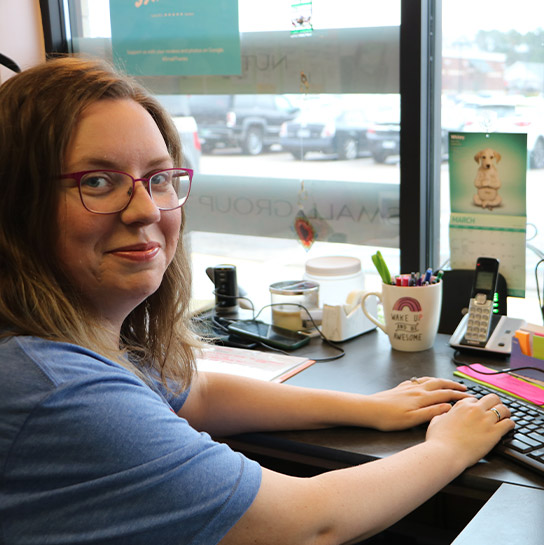 Rachel Westermann

Member Services Manager
---
I've been working out at Synergy for two years, and I benefit so much from their small group training. Synergy made me more fit, muscular, and strong all around. I really loved their mission, so I knew working here would be perfect for me.
Before working at Synergy, I was a school librarian in South Carolina and Kentucky. I have a B.A. in History and a Master of Library & Information Science from Indiana University.
I recently just started my own business as a Mystery Shopper, where I help businesses cut waste and improve their sales. I also help women fill in the gaps in their wardrobe by shopping for them! I am involved with my local college alumni organization. It can be tough to move to a new place and not know anyone, so I like to stay busy working on my passions.
Hannah Shankle

Personal Trainer
---
I am passionate about fitness because people underestimate how pleasant life in their body can be, especially women who have been conditioned to hate how they look and feel every day. It is a hard place to get out of on your own. I'm here to help!
---
You should know is that I'm an ACE Certified Personal Trainer and certified in CPR, AED, and First Aid.
---
What I love are festivals. I'm a big "festie" and always looking for and planning for the next music festival. I love EDM and soft electric music. Hippie Sabotage is my favorite artist.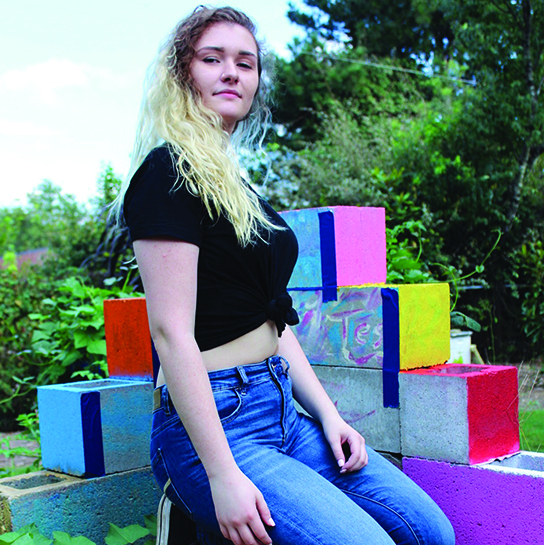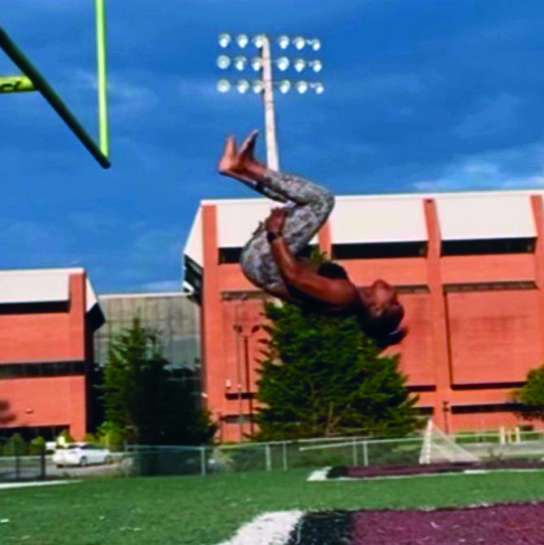 Valerie Williams

Personal Trainer
---
Women are caregivers. We look after everyone else before ourselves. What I know to be true is we cannot be everything we need to be for others if we've not first cared for ourselves. Taking care of our bodies is an excellent place to start. What I like to say ... Girls, to rule the world, you have to take care of yourselves! I love helping others. I love helping and working with women especially. I have a background in cheer/gymnastics and have coached both since high school. My experience has allowed me to train individuals from 3-years old to 40 and beyond. My goals include a Bachelor's degree someday. What most don't know about me is that I'm a mother. When I'm not at Synergy, you might find me in an open field tumbling or trying to find a body of water to relax near. If not in one of those places, I'm shopping with my daughter, retail is our therapy.
TaHaveen Williams

Assistant Manager
---
I love to make a difference in people's lives. Getting the people around me to smile and feel good about themselves bring me great joy. I believe that our bodies are a unique one-of-a-kind masterpiece, something to be grateful for. Working with women at Synergy allows me to share this belief and bring other women to this understanding and mindset about themselves. It's a privilege. I see every ne day as an opportunity to design new goals and better my mindset.
---
I am a graduate of NCCU with a degree in kinesiology and a minor in sports medicine.
---
When not at Synergy, you'll find me outside alone or with family. You will no doubt see me active, always moving. I enjoy begin outdoors.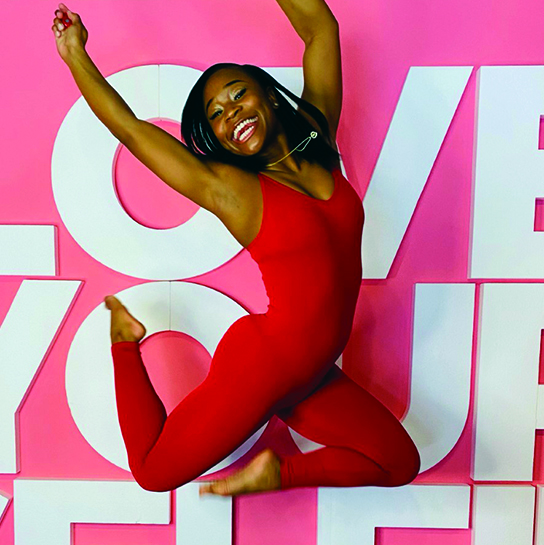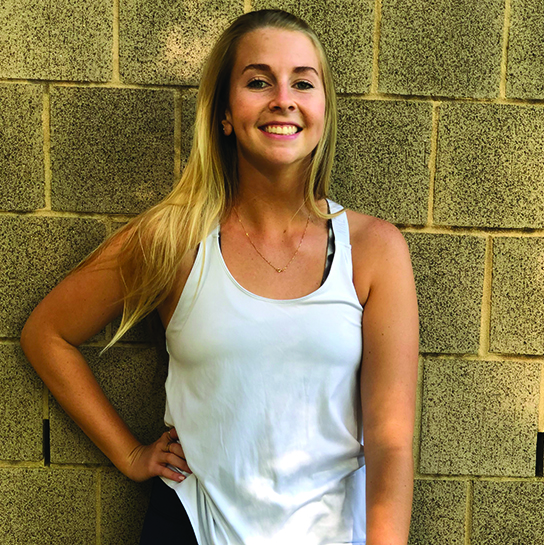 Erin Redgrave

Registered Dietitian
---
Erin is a Registered Dietitian who specializes in performance nutrition. After spending four years at the University of Delaware to obtain a bachelor's degree in dietetics, Erin went on to complete her dietetic internship in Charlottesville, Virginia. She completed a sports nutrition rotation with the University of Virginia which solidified her love for working with athletes. As a dietitian, Erin takes a non-diet approach to nutrition, and rather than subtracting foods, she focuses on adding in healthy foods to optimize performance and help you meet your goals. When Erin isn't thinking about food (which pretty often), she loves weight training, doing spin workouts, and being a dog mom to her new Corgi puppy!
Join Our Fitness Community
Get started with your FREE class today.